Cobequid Pass is the only highway in Nova Scotia that only required a relatively small one-time initial investment from governments for its construction. It is also the only highway that covers the cost of its annual and long-term maintenance over a 30-year period.
The terms of agreement between the partners detail how toll revenue is used to repay investors, cover toll operations, and fund long and short-term maintenance.
Operations


The Project Account was established to:
Pay the 104 Western Alignment's ongoing administrative cost

Pay operating and maintenance costs for Cobequid Pass
Every month the 104 Corporation transfers any cash balance from the Project Account into the Capital Reserve Account. By agreement, the project Account keeps only a balance equal to two month of its operating/ administrative budget.

The sources of cash for the Project Account are:
The Capital Reserve account is used to:
Pay Trustee fees

Pay accrued unpaid interest

Pay senior bond debt and junior bond debts as per scheduled quarterly repayment dates

Meet the minimum funding requirements of the Debt Service Reserve Account if required. (The Debt Service Reserve Account must be funded at one year of Senior Debt Payments, according to the amortization schedule, at any given time.)

Meet the funding requirements of the Major Maintenance Reserve Fund

Pre-pay the debt

The sources of cash for the Capital Reserve Account are:
The Project Account: All monies in excess of two months operating and administrative budget are deposited to the Capital Reserve Account

All excess funds in the Debt Service Reserve Account (DSRA). The DSRA, on any given bond principal and interest payment date, can only hold the schedule Senior bond repayments for the following 12 month period.
Senior Debt Service Coverage Ratio (DSCR)

The Senior Debt Service Coverage Ratio must be 1.2:1 at any time during the first 36 months after December 31,1997, the Date of Acceptance, and 1.3:1 at any time after the 36th month after the Date of Acceptance.

If the Senior Debt Service Ratio is larger than 1.3:1 but less than 1.6:1 then all funds in excess of expenditures and bond repayment are accumulated in the Capital Reserve Fund where they are place in permitted investments. If the Senior Debt Service Ratio is larger than 1.6:1, provisions in the agreements allow for some of the funds to be paid to the Province. The Province has declined to exercise this option, and has directed the Corporation to reduce the debt or to forego toll increases where possible.

Major Maintenance Reserve Fund (MMRF)

The Major Maintenance Reserve Fund ensures that once the three-year warranty expired on the highway there are funds available to pay for major maintenance costs as repaving.

The first contribution to the MMRF fund came from the Subordinate Notes, which were issued in November 1997. This was a total amount of $500,000. The Financing Agreements require that specific quarterly contributions be made to the MMRF from the Capital Reserve Fund and these contributions are adjusted annually based on maintenance requirements.


Cash Flow Diagram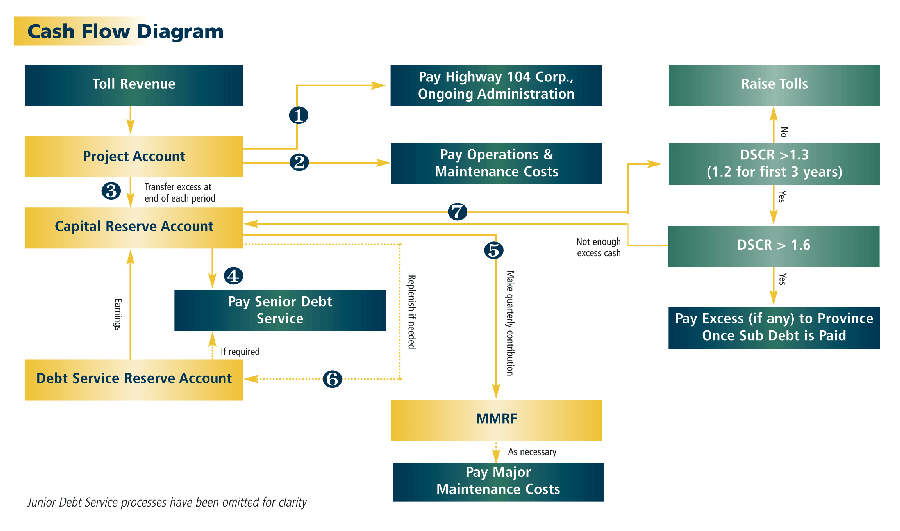 Highway 104 Western Alignment Corporation